---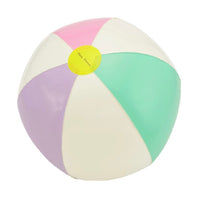 Our OTTO Beach Ball is a playful at heart! Otto has 3 panels of our distinguished ivory colour and with three different colour combinations - all with a playful limonata yellow top.
Size: Ø 45 cm

Delivered in a reusable bag of organic cotton for easy storage. 

Extra fine inside seaming for premium comfort. 

Made of heavyweight, durable material to stand the test of time. 

Free of BPA and phthalates. 

All Petites Pommes floats are hand-printed. This process is completely manual - depending on the pressure of the hand, small colour variations between products may occur.